DISPLAY TRACKING AWESOMENESS!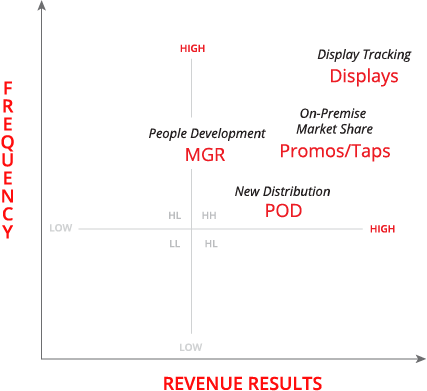 In the 4-Box activity plot of sales rep behaviors, securing displays week after week is the greatest and most important discipline of Execution. That's why our Display Tracking Awesomeness survey is the cornerstone of CPG Data's Execution Management System!
Improve Ad Tracker Execution
It's nice to know where you have a display, BUT it's critical to know where
you DON'T!
Instant Incentive Updates
The #1 change to incentives you can make to get more bang for your buck is
to provide your team with regular real-time updates on how they're doing!
We are all driven to win, but it helps to know the score!
Historical Execution Analytics
When you know where the displays were, when they were, and how big
they were, then you'll know where, when, and how big they need to be
next time to exceed your goals!
Effortless Exporting
It's our job to make you as prepared and informed as possible about
your market execution levels EVERY time you have a conversation with a
retailer or a supplier, especially the BIG ones!
I`m accountable for Execution.
CPG Data was designed by distributor, supplier, and retail leaders who have sat in
your chair and lived your execution problems. Click below to schedule a webinar and
product demonstration with our team!
OUR SERVICES
CPG Data collected execution performance measures against
the 5 most important activities in every supplier business
plan you`ve signed off on.
Displays
Taps
POD
Promos
MGR

Meet Our Team
California
Tracy B. Neal
Founder/CEO
Illinois
Jesse Diaz
President
California
Brian Mullaly
Chief Technology Officer
Florida
Jenn Sparks
Director of Operations
Louisiana
Meagan Pearson
Distributor Business Manager
Georgia
Payten Vermilyer
Distributor Execution Manager
California
Matt Harms
Controller
California
Kevin Balzer
Creative Director
IN THE PRESS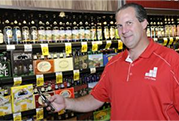 SACRAMENTO BUSINESS JOURNAL
El Dorado Hills-based CPG Data
helps liquor sales go high-tech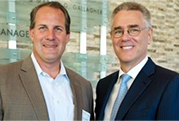 UC Davis
Tracy Neal MBA 01 Brews Success
Most of our customers can be up and running
with CPG Data in less than 48 hours.
There's no extra hardware to purchase, no
software to load, and no legacy system
integration to manage!
We hope you like your RAS vendor because
we don't provide RAS and we want you to
keep doing business with them.
CPG Data is a cloud-based service support by
Amazon Web Services with emergency back
up, enhanced security, and dedicated
protocols for a 99.999% uptime guarantee. All
data is stored and accessible for 24 months.